SUT Rector Joins Australia-Japan-Thailand International Cooperative and Work-Integrated Education Partnership Meeting
SUT Rector Joins Australia-Japan-Thailand International Cooperative and Work-Integrated Education Partnership Meeting

Professor Prasart Suebka, SUT Rector and Vice-President of Thai Association for Cooperative Education (TACE), was invited to participate in the Australia-Japan-Thailand International Cooperative and Work-Integrated Education Partnership Meeting on January 20th, 2014 at Wichitpakhiyastan, Thai Association for Cooperative Education Office, Nonthaburi.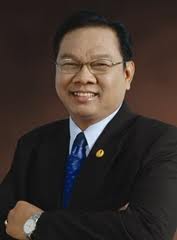 Other participants included Professor Wichit Srisa-an, TACE President, Associate Professor Dr Kamjorn Tatiyakavee, Deputy Secretary-General, Office of Higher Education Commission (OHEC), Dr Sumate Yamnoon, Former Secretary-General of OHEC, Dr Sampan Silpanad, Vice-President, Western Digital (Thailand), Co., Ltd., and Assistant Professor Dr Boonchai Wichitsathian, Director of Centre for Cooperative Education and Career Development, Suranaree University of Technology and TACE Secretary-General. International guests were, from Japan,
Ms Keiko Saito, President of International Language & Culture Center Co., Ltd., (ILCC) and President of Japan Forum for Work-Integrated Education, Ms Keiko Kobayashi, Managing Director of ILCC and Secretary-General of Japan Forum for Work-Integrated Education, Ms Shoko Watanabe, Manager of ILCC, and from Australia, Ms Judie Kay, President of Australian Collaborative Education Network Limited (ACEN) and Assistant Director, Careers and Employment, Royal Melbourne Institute of Technology University (RMIT University), Australia (Ms Kay's visit is a result of Professor Prasart's trip to RMIT in December last year).
The discussion was around key topics such as potential areas for Australia-Japan-Thailand collaborations, sharing of the Thai Cooperative Education Standards, and TACE's Cooperative Education training programmes. An immediate result of this meeting is the arrival of cooperative education students from Japan and Australia to SUT or other universities in the next couple of months.
news by : Issra Pramoolsook