25th year of Suranaree University of Technology foundation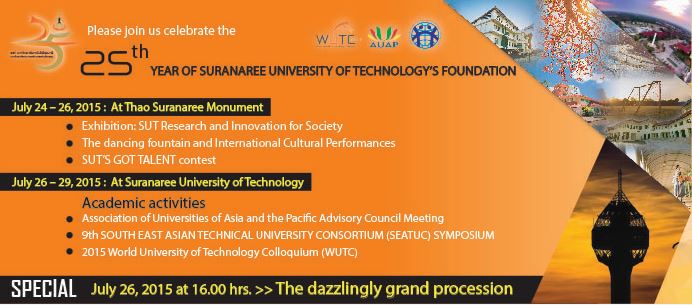 "SUT Silver Jubilee:
25 years of the founding of Suranaree University of Technology.
Suranaree University of Technology (SUT) was established as a "state autonomous university," Thailand's first, on 27 July 1990. Since then, SUT has determined to grow in every mission, with achievements in evidence continually. Now the 25th year of founding, the SUT Silver Jubilee, Professor Dr. Prasart Suebka, SUT Rector, discusses the missions and achievements of an innovation and creation University, in parallel with being an institution hand in hand and being relied upon by society.
25 Years of Creating Innovations in Higher Education
Suranaree University of Technology is Thailand's first autonomous university. Flexible in administration, SUT speeded forward and in a few years, was chosen to be the "one in the nine of the national research universities," a university excellent in research and instruction. The assessment of the internal quality assurance of education according to the framework of the Commission of Higher Education (CHE) yielded 4.83 and 4.86 in 2013 and 2014 respectively. Externa
l education quality according to the Office for National Education Standards and Quality Assessment (ONESQA) received 4.76 and 4.74 in the second and third assessment rounds respectively, while receiving excellent overall first place among state universities and overall second place among universities with graduate programs and research in the second assessment round.
SUT is the first state university to become a "University of Technology," with emphasis on instruction and research in science and technology, with Baccalaureate, Masters and PhD programs. SUT has 7 Institutes: Science, Engineering, Agricultural Technology, Social Technology, Nursing, Medicine and Dentistry. SUT's annual output of 2,500 graduates have up to 96% rates of obtaining jobs, with initial salaries averaging the leading in Thailand.
SUT is the prototype and leader in Thailand's cooperative education. The first to adopt the work integrated education system to train graduates to respond to the needs of the labor market, today SUT is a "silver" member of the World's Association for Cooperative Education (WACE), as well as one in two institutions selected to be an WACE International Satellite Office (WACE ISO@SUT) for the Asia Pacific Region. Even more, SUT has initiated a graduate program for cooperative education granting Masters' and PhD Degrees, the very first in the word, to train personnel and aid in the development of cooperative education, as well as aid in the collaboration with ASEAN institutions of higher education to promote international cooperative education. So far, SUT has received national awards for excellence in conducting cooperative education, excellence in international cooperative education, excellence in cooperative education administration, and quality international cooperative education students.
Moreover, SUT is Thailand's first university to create the position of Vice Rector for University Community Engagement, leading change from providing academic services to society to the concept and principle of University Engagement and Social Enterprise, to affirm being a true companion and reliable pillar for society as an institution. Active programs convey instruction; research; academic service; technology adaptation, transfer and development; in joint engagement with community organizations, such as cooperative education; promoting the boating athletic team as well as the Swat Cat Football Team Club; founding the Surawiwat High School; promoting the "Super Tech" labor skills; comprehensive community waste management; Moon River Management; Wang Nam Khiao Agriculture Research Station; Korat Meat Chicken promotion through support of local farmers; Korat Wagyu Beef Program through local beef cooperatives, and others. Engagement with international organizations also is pursued and highly successful: SUT is the first University of Thailand and the ASEAN region to have an academic agreement with A Large Ion Collider Experiment (ALICE) and also collaboration with European Organization for Nuclear Research (CERN).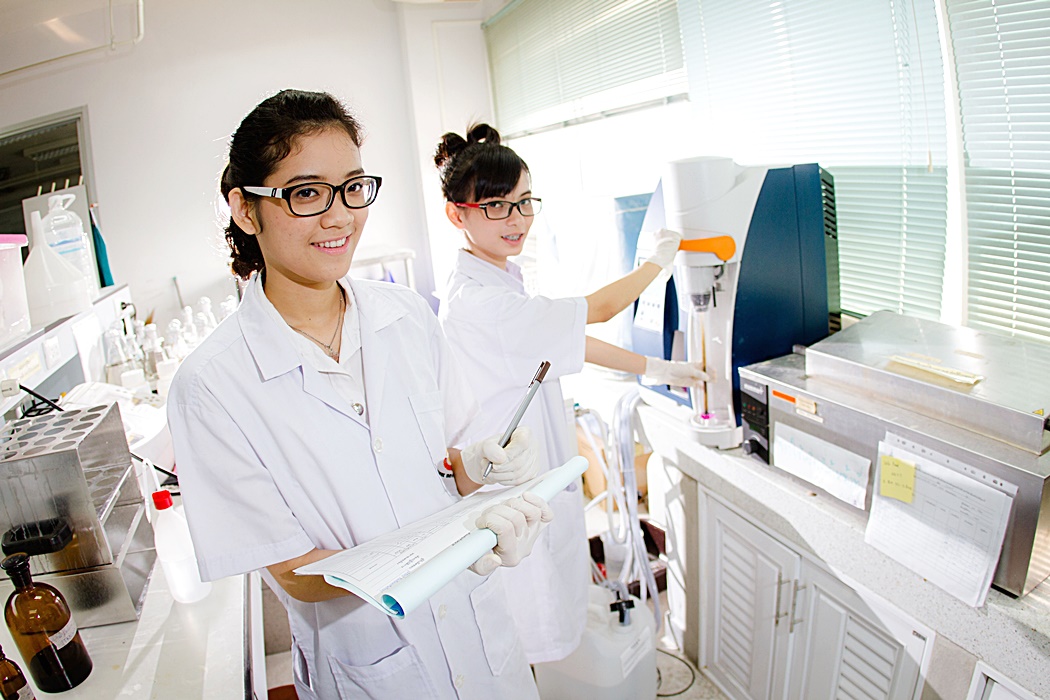 25 Years of Research Output Creation for Society
SUT is a national research university, with 82 % of faculty holding doctoral degrees, with international publications output per faculty ratio being the first in Thailand. From the assessment of the research of the individual schools conducted by the Thailand Research Fund (TRF), the School of Physics has received 1st excellence for Thailand for 6 consecutive years, with the other 9 schools receiving distinguished marks being Mathematics, Chemistry, Biochemistry, Electrical Engineering, Telecommunications Engineering, Civil Engineering, Animal Husbandry Technology, Biotechnology and Food Technology.
I have always said, "The challenges of society are the research problems of this University," stressing the "shelf to the shop" policy, continuing research to the market place, the factory or the agricultural plantation in the widest manner possible, thus responding authentically to the demands of the community. Some examples are the elimination of the rice weevil through high frequency sound waves, leading to less use of chemicals in the rice industry in a sustainable manner; comprehensive waste management technology; transforming waste to fuel; new light materials for construction; developing high performance engineered woods; aroma therapeutic engineered rattan furniture; biopolymer containers for hot and cold; high efficiency electrospinning system; expanding agricultural productivity, such as 1 rai of rice field yielding 100,000 Baht and 10 months of cassava plants yielding 10 tons of output; the use of bacteria to create immunizations for blast disease in cassava; new genomic knowledge for bio fertilizer for Thai rice production; cloning technology; developing the Khorat meat chicken as well as the Khorat Wagyu beef cattle, with quality of the latter comparable to its Japanese counterpart; the Bed-Time Milk, as well as developing a hybrid cross-platform cloud system, the first in the world, with open source code accessible to all developers free of charge.
25 Years Experience to promote Khorat as a Hub of the AEC
The fast arriving end of 2015 will see our entry into the ASEAN community with all SUT's academic potential and strength, ready to promote Nakhon Ratchasima Province to be a five-fold Hub. The first is the Education Hub, not only for higher education, but to link to other pillars of education such as vocation and basic education. The second is the Medical Hub, with SUT's own hospital supporting medical research and providing services to the people, training medical, dentistry and nursing personnel for the service of society. The Transportation Hub will be supported by SUT's Schools of Transportation Engineering and Logistics; Aeronautical Engineering, and Management Technology as they train personnel to support the expansion in land and air transportation, including the aircraft industry and maintenance. Moreover SUT' Agricultural Technology and Food Technology are ready to serve as principle institutions in food industry research and development, as to promote Khorat's becoming Thailand's Food Hub or Food Valley. Finally, becoming a Sports Hub is already a reality with His Majesty the King's 80th Birthday Anniversary, 5 December 2007, Sports Complex in Khorat near SUT, as evidenced from hosting the SEA Games in 2007 and the 2014 National Games.
SUT 25 Years Celebration Activities
The 25th birthday celebration for SUT has begun since 28 July 2014 and will continue until 31 December 2015. Many activities, both on the national and international level, have taken place, such as serving as co-host with Nakhon Ratchasima Province for the 43rd National Games, or "Nakhon Ratchasima Games," and the 33rd National Para-games, or "Khorat games." SUT has also been honored to host the 22nd STEM Innovation for Thai Education as well as the International Young Physicists' Tournament (IYPT 2015).
As for this July, SUT's founding month, we are proud to present activities to help the public get to know us a bit more as your very own University. We have the "SUT 25 Years: the Creative Innovation University and Pillar of Society" Exhibition, on 14 – 15 July at the Mall Shopping Center, Nakhon Ratchasima Province. This overture continues to the "Top SUT research and innovation for society under the concept Life@SUT" exhibition. There will be both Thai and international cultural performances, along with the Blue Flag Market featuring economical goods, between 24 – 26 July at the Thao Suranaree Plaza in the Municipality of Nakhon Ratchasima. This year also features a magnificent parade around Nakhon Ratchasima under the theme, "Lighting the Spark, Growing an Idea, Overcoming challenges in change, Displaying Achievements." I do wish that the people and the public would join us in celebrating the success of your own University on the 26th of July.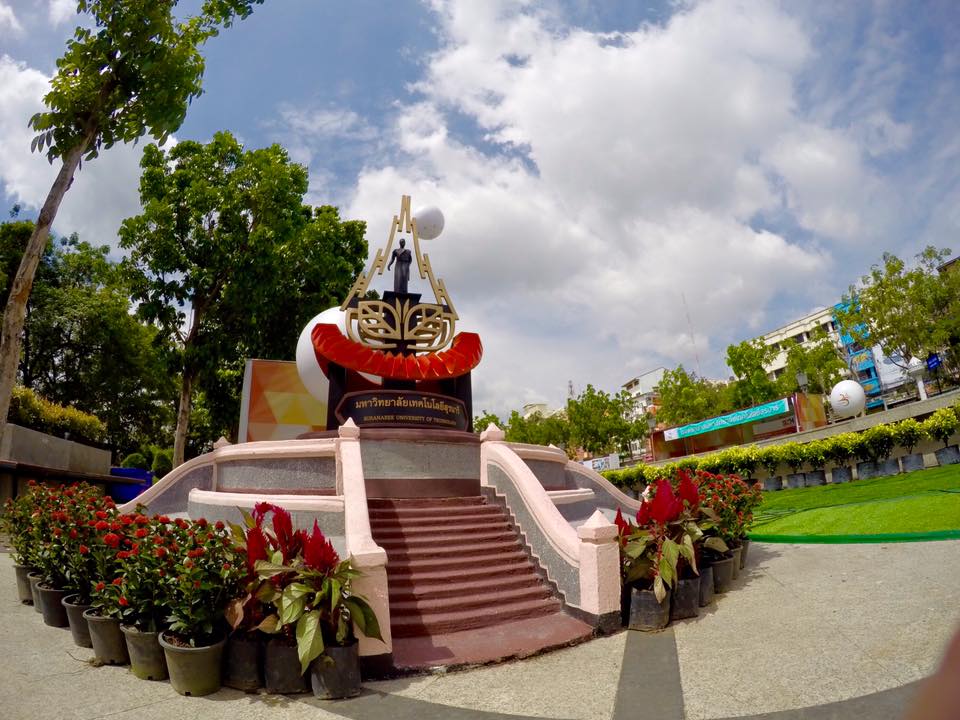 Besides, we are holding many international meetings and workshops. The South East Asian Technical University Consortium Symposium (SEATUC 2015) will be in the fields of engineering, science and technology between 27 – 29 July. The 2015 World University of Technology Colloquium (WUTC) will see presidents from Universities of Technology from all across the world exchanging and sharing experiences concerning the role of the University of Technology in the growth of the world community in the next decade on the 28th of July. There will also be a 20 year anniversary celebration of the Association of Universities of Asia and the Pacific (AUAP) and a conference for Building Research Capacity for Non-Communicable Diseases to be held on 28 – 29 July as well.
Looking a bit forward to the future, November will see the 41st Congress on Science and Technology of Thailand (STT 41) organized by SUT and the Science Society of Thailand under Patronage of His Majesty the King. Her Royal Highness Princess Maha Chakri Sirindhorn has graciously agreed to preside over the opening ceremony with a Nobel laureate providing the keynote address. Thus all these are special activities in celebration of the 25th founding anniversary of SUT.
25 years of Suranaree University, Thailand's first autonomous state university. We are determined to maintain our excellence in all missions, training graduates in science and technology, fully equipped in knowledge, moral ethos, wisdom and personal pride, as to sustain this University of innovation creation and pillar of society until the end of time.